RN, ChFC, CLTC, AEP® Investment Advisory Representative
From one helping profession to another…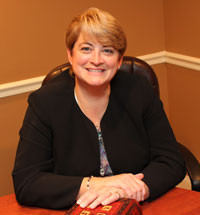 A registered nurse for 25 years, Cindy started studying finance when she and a group of nurses began an investment club. The more she learned, the more she realized she could help provide the services she sought – applying the same holistic approach to caring for clients' financial health as she did their physical health.
Not only did she love it – she excelled at finance.
At the same time, she saw her parents endure unnecessary financial hardships and vowed to do all she could to make sure others did not suffer a similar fate.
She is passionate about helping her clients create financial freedom – and speaks frequently on the subject.
Cindy is a:
Chartered Financial Consultant (an advanced financial planning designation that covers all elements of estate, financial, and tax planning)
Certified Long Term Consultant (CLTC)
Accredited Estate Planner® (AEP®): designates formal experience, education, and designation in estate planning activities.
Registered Investment Advisor and a Registered Representative with Leigh Baldwin & Company member FINRA and SIPC
Member of the Board of Directors for the Montgomery County Estate Planning Council
President of the Montgomery County Estate Planning Council
Columnist for ADVANCE magazine for nurses
Contributing writer for American Nurse Today, Nurse Zone, Personal Excellence and Med Hunters
Recipient of the 2012 Alumni Hall of Fame at the Montgomery County Community College
Cindy and her husband, Dan, have been married since 1985. She enjoys being with her son, Christopher, spending time at the beach, sailing and golfing.
Giving Back
Committed to her community, Cindy also gives back: she established a student scholarship fund at Montgomery County Community College and is a sponsoring member of both the Montgomery County Foundation and the American Cancer Society. For details, please click here.
Education
Certificate of Completion from the American College for the CFP and ChFC curriculum
Associated Degree in General Studies from Montgomery County Community College, Blue Bell, PA
Certification in Operating Room Technology from the National School of Health Technology, Philadelphia, PA
Associate's Degree in Nursing from Hahnemann University, Philadelphia, PA.
Attended Philadelphia University, Major Finance
American College, Bryn Mawr, PA, ChFC program